Keynote speakers and chairs of the sessions
Section 1: Business Economics and Management

TBA
Section 2: Economics and Public Administration
TBA
Section 3: Informatics, Information Management and Operational Research
Dr. Robert Bucki (The College of Informatics and Management in Bielsko-Biała)
Rober Bucki, Ing., Ph.D. (The Institute of Informatics and Management in Bielsko-Biała)
Dr. Robert Bucki is the assistant professor at The Institute of Management and Information Technology in Bielsko-Biała. His major scientific fields of interest are simulation of discrete systems including logistics systems, algorithm tasks as well as information systems design. Moreover, he specializes in linguistic information systems. He has been the member of editorial boards of scientific journals and committees. Also, he is a peer reviewer for renowned journals and other publications. He is the author and co-author of numerous monographs, papers in international scientific journals and conference proceedings.
Research profile of dr. Bucki is available HERE.
Section 4: Marketing
Assoc. Prof. Jana Majerová, Ph.D. (Ambis, Prague)
Assoc. Prof. Jana Majerová is a member of the Department of Economics, Faculty of Operation and Economics of Transport and Communications, University of Zilina (Slovak Republic) where she teaches Marketing, International Marketing, Strategic Management and Commercial Law. Her professional and research activities are focused mainly on the issue of the brand marketing management and insolvency law. Nowadays, she is a member of scientific or editorial boards of several scientific conferences and journals listed in SCOPUS database. To date, more than 260 indexed citations have been recorded for her publications. She was or is the researcher of 5 VEGA projects and 3 APVV projects. She is a national coordinator of EUFin ERASMUS KA2 Strategic Partnership Project 2018 to 2021 titled "Innovative integrated tools for financial literacy education across Europe".
Section 5: Finance and Banking
Assoc. Prof. Rajmund Mirdala, PhD. (Faculty of Economics, Technical University of Košice)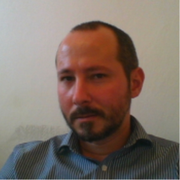 Assoc. prof. Mirdala is a vice dean for research and doctoral study. He guarantees courses Macroeconomics, Advanced Macroeconomics and Microeconomics, Monetary analysis and History of money. His major scientific fields of interest are exchange rates, monetary policy, fiscal policy, international capital flows, transition economies and global economic imbalances. He is an editorial board member and referee in many scientific journals. He led small teams in many research projects.
Personal website of doc. Mirdala is available HERE.