Papers (draft version) in English presented at the conference must be sent for review no later than 30th September 2022. Papers should be sent by an e-mail after abstract acceptance to This email address is being protected from spambots. You need JavaScript enabled to view it. with a subject CONFERENCE.

After the conference, participants will have time to rewrite papers according to reviewer´s and other participants´ comments until 20th November 2022. There are two publication options:
a) standard conference proceedings with ISBN (range of the paper is between 7 and 10 pages)
b) paper in a scientific journal Acta Academic Karvinensia (range of the paper is between 10 and 15 pages)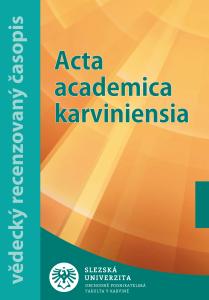 Acta Academica Karviniensia (https://aak.slu.cz/)
Papers in accordance with formal requirements of the template will be accepted only. Papers submitted after this date will not be included in the conference programme.
The template for papers you can download HERE.

Conference Proceedings:
2018 CONFERENCE PROCEEDINGS - YOU CAN DOWNLOAD HERE
2017 CONFERENCE PROCEEDINGS - YOU CAN DOWNLOAD HERE